882A BADGER-DOG OR SAUSAGE-DOG

BADGER-DOG OR SAUSAGE-DOG?
by   David Hancock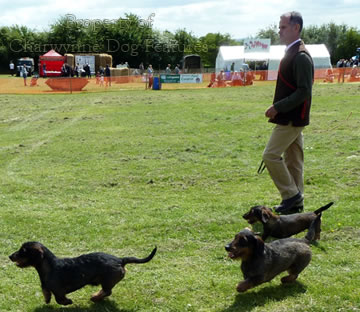 An innovation in our hunting grounds and a welcome one, has been in the use of the Teckel, the sporting Dachshund, so like a shorter-legged Basset Fauve de Bretagne, or chestnut Basset of Brittany, a most engaging little hound. Teckels have been used extensively for deer work, both in stalking and tracking. They were introduced to the UK in the 1970s, with the UK Teckel Stud Book Society founded in 1999. There are some 600 Teckels now registered with the society. The Ryeford Chase is a private pack of 30 couple Griffon Vendeen Bassets and uniquely 10 couple Teckels, started in 1974 and willing to hunt all over the country. I have heard the smaller Teckels described as Dachsels or Kaninchen, used as rabbit dogs, on the continent, where nine distinct tests are conducted to test hunting skills, including a water trial. The wire-haired variety is favoured by hunters from Poland to Slovenia. Colours recognised by the Stud Book Society are black and tan, chocolate and tan, red, brindle and dapple.
My concern over long-backed short-legged dogs, the exaggerated show specimens rather than the Teckels, relates to the strain on their spines on the move. Unlike longer-legged shorter-backed breeds, the dog's weight is not supported continuously by the legs. The hind legs are just not long enough to place the hind feet close to the fore feet, as locomotion proceeds. The spine therefore bears the weight unsupported and the consequent strain must be appreciable. Vets complain of seeing Dachshunds  in their surgeries only a year old but with 'five year old' spines. 'Sausage dogs' can be endearing to many, but back pain to all is best avoided, and could so easily be, in this breed - by breeding for a shorter back and lengthier legs. It's called animal welfare!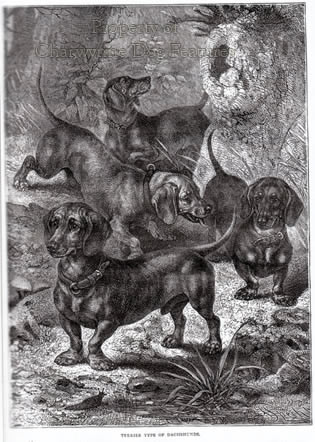 In one of his invaluable books, RH Smythe, himself a vet and exhibitor, wrote, in The Dog - Structure and Movement (Foulsham, 1970), "So far as their spines are concerned the most unfortunate are the long-backed dogs, especially the Dachshunds. The abnormal length of spine between the wither and the croup is unsupported at its centre so that undue strain falls upon the intervertebral articulations and the intervening cartilaginous discs. It has been said that the normal life of dogs of this breed is fourteen years, but the spine is good only for five years. Although Dachshunds tend to suffer at intervals from disc trouble with temporary recoveries, the tendency is for ultimate paralysis to develop at a comparatively early age." Dog breeders shouldn't need veterinary advice to breed soundly-constructed animals, just affection for their breed and simple humanity.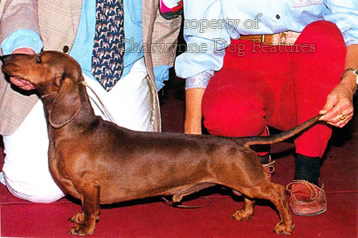 The vast majority of the UK Teckels are used for deer work and so most of the nine working tests don't apply but their existence displays a commendable genuine desire to perpetuate a working breed. The German working tests include ones for gun-shyness, underground work (hold at bay not kill), tracking a 1000 metre boar blood trail and specific tests to bay boar, deer and fox. Earth-dog tests are conducted both in France and North America, designed to test terriers a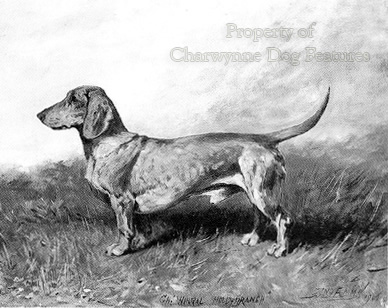 nd Teckels under the ground using tunnels, pipes and artificial burrows. Earth-dog tests in the US involve a junior (instinct) test, where the dog has to traverse a 30 foot-long, wood-lined, underground tunnel with three 90 degree turns and 'work' the prey (caged rats) for at least 60 seconds. Thereare more realistic tests for the Senior and Master Earth-dog titles. I understand that the Irish Kennel Club has now formu
lated a working test for Dachshunds, consisting of four parts, all to be taken on the same day. 25 points are available for each part, with a pass mark of 50 out of 100, even if no marks are scored in one part. The first part consists of tracking, following a 300 to 400 metres trail, which is two to three hours old, with points allotted for searching ability, accuracy, obedience and endurance. The second part is going to ground, through a tunnel, with points for willingness to enter and speed. The third part is for obedience, with points for staying with the handler in sight, recall and lead-training; the fourth part involves a gun test, although a temperament test may be substituted to appease the anti-gun lobby. Could we not copy this sort of test for all our earth-dogs?
It is always good to see a type of dog being used in the sporting field after a century of purely show patronage. The requirements of field employment can have the effect of producing a physically sounder dog, less exaggerated and less couch-potato too. Every dog created for a sporting purpose needs an outlet if it is to obtain spiritual release and nurture. Owners of Dachshunds have long praised their innate character but some have justifiably moaned about the vets' bills for back problems in their dogs. In more enlightened times, perhaps we will see a longer-legged, shorter-backed, much more functional phenotype in this game little breed. It will be richly deserved. Are we seeking  a badger-dog or a sausage-dog?