877 THE NEGLECT OF THE ENGLISH SETTER

The Neglected Setter Of England 
by   David Hancock
"If one had to pick a dog, not a foxhound, as typical of English country life and the English country gentleman who lived it in the nineteenth century, then that dog would be the English Setter."  Sir Richard Glyn in his 'Champion Dogs of the World' of 1967.
Those words straightaway provide the frame for any word picture being painted of the English Setter. It was a breed chosen as the shooting companions of those with land or access to it and a life of ease, often dominated by country sports. The passion of such men for country sports not only shaped the English countryside but gave us our hounds, gundogs and terriers. In the time of the Stuarts, the setting dog was used to hold game birds to ground, often with a hawk overhead to keep the birds from flying, while a net was carefully drawn over them. Then with the introduction of firearms and later 'shooting flying', setters were needed, along with pointers, to indicate and then put up feathered game.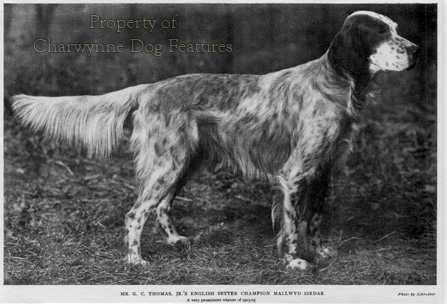 In pursuit of this function, the setting dog breeds developed both here and on the continent and were widely traded, with a high value on a trained and effective dog. Whilst our setter breeds were evolving here so too were the 'epagneul' breeds on mainland Europe. It is foolish for setter breed historians to claim a long and pure lineage for their favoured breed. Good setters were mated to other good setters irrespective of colour. The landed gentry went on their Grand Tours, sometimes taking their dogs with them through Europe and sometimes coming back with a dog which had impressed them. It was easier to bring foreign dogs into Britain in every previous century than the twentieth. But what is the state of this ancient English breed today?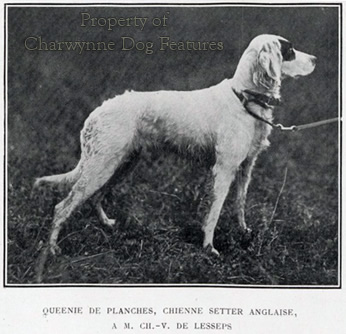 The English Setter judge at Crufts in 2012 made some significant points on the entry, having stressed the working origin and field use of the breed: "I do feel that some breeders are not paying enough attention to this and consequently we are seeing dogs which are weak in those aspects (i.e. the correct working anatomy, DH) - some with a lack of angulation, some with elbows turning out and feet turning in, some tied at the elbows with feet turning out, some with sickle hocks, etc., all of which contributes to a lack of forward reach and rear drive..." Apart from the fact that each Crufts exhibit has to qualify for that show under a KC-appointed judge and it's worrying that such basic faults actually occur in the entry there, there appear to be far too many breeders igno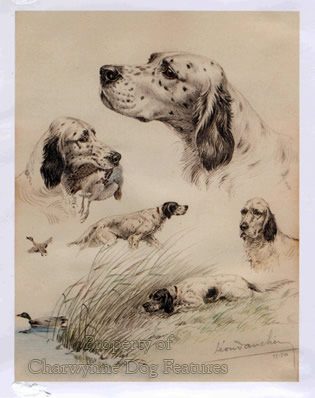 rant of a working gundog's needs. Edward Laverack, in his book on the setter of 1872, wrote: "The first thing to be attended to in breeding is to consider what object the animal is intended for...One of the first objects to obtain, if possible, is perfection of form, as best adapted for speed, nose, and endurance. The next, and which I consider paramount, or of as much importance as physical form, is an innate disposition to hunt, and point naturally in search of game, and without which innate properties mere beauty of colour and perfection of external form (however desirable) are but secondary considerations to practical sportsmen, and simply valueless."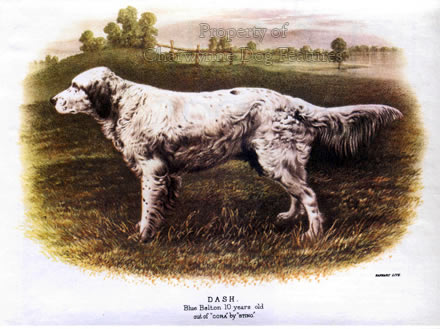 That is a very clear statement from a master-breeder and not one to be overlooked. English Setters were designed for work, that is why they were handed down to us in the form they were. English Setters that are not capable of working, physically and mentally, represent a betrayal of everything the pioneer breeders devoted their lives to. It does not matter if they are only pets; to be the genuine article they must have an anatomy which could carry out setter work. Pretty, showy, flamboyant setters floating round the ring and then earning the kind of remarks from the judge set out above are unworthy of their own heritage. We breed only 300 a year. And if we breed them without heeding the great founder-breeder's words, and his crystal clear message about valueless dogs, we will in time put at risk a simply splendid type of dog and an important part of our sporting dog inheritance. It would be shameful if the English lost their only setter in the coming years.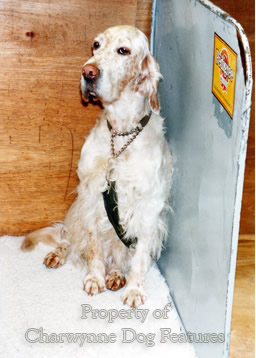 In a letter to Dog World of 25th May 2012, Val Isherwood of Laverstoke English Setters wrote that "We have only to look at historic pictures of the breed to see that it is our show lines that have actually drifted further away from the original English Setter." She was responding to a statement that working breeders do not care about breed type. (I was recently told of a very promising novice English Setter: Laverstoke Firefly at Gaiasett, that worked well and looked truly handsome, full of breed type.) There are urgent questions to be answered by the breed elders; the gene pool is dangerously small. Should the working dogs' blood be used? Should overseas blood be utilized? Could a similar breed's blood be introduced? I would favour the latter; genetic diversity matters!
When you read of the blend of blood used by such inspired dog breeders as Laverack and Llewellin it makes you realise how handicapped we are by the pedigree system, paradoxically, a system designed to improve dogs. Pure breeding is fine when it's working, disastrous when it is not. But who decides, or has the moral courage to speak out when the closed gene pool in a breed is simply not good enough? Who nowadays would cross one setter breed with another? When Llewellin died in 1925 he left his dogs to his housekeeper, from whom William Humphrey subsequently bought them. Humphrey saw his first field trial as a boy of nine in 1892 and won his first stakes two years later at the age of eleven. Winning his last stake in 1963, he set up the longest record of field trial successes since such trials started in 1865. He so approved the Llewellin strain that over 55 years he imported from the United States 33 dogs and bitches previously exported. His 'Wind'em' setters were so revered that when I was in Norway forty years ago, my hosts were still recalling them. Humphrey ran a winning dog in Norway at the age of 67. He was famed for his Pointers too, at one time he ran a kennel of 1,200 dogs! Those days have long gone, is the setter of England going too?