876 THE FADING GOLDEN RETRIEVER

THE FADING GOLDEN RETRIEVER
by   David Hancock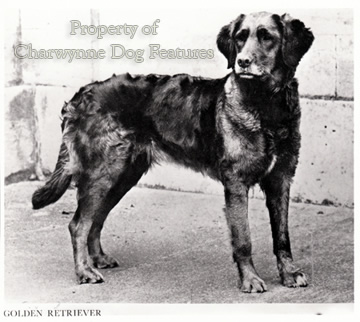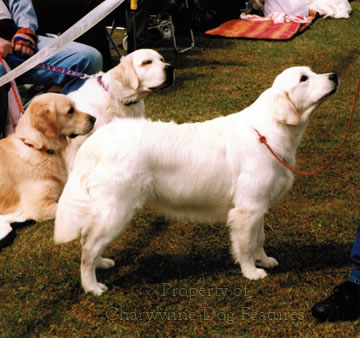 Golden Retriever owners could make a fair claim I believe to possess the dog breed with the greatest charm, the nicest nature and one free of any kind of malice. Stimulating great affection from the general public and attracting the admiration of those advertising all things canine has however brought what is to me an undesirable excess of popularity, with the relegation of far too many of the breed to the hearth. But the breed undoubtedly comes from impeccable working stock, bred by the most skilful and knowledgeable of men, with an enviable blend of blood behind the breed when utilized in the shooting field. 
In her The Golden Retriever Handbook of 1953, Elma Stonex established the beginnings of this breed, discounting all the fanciful stories of circus dogs, Russian imports and other romantic fantasies that strangely continue to this day. Me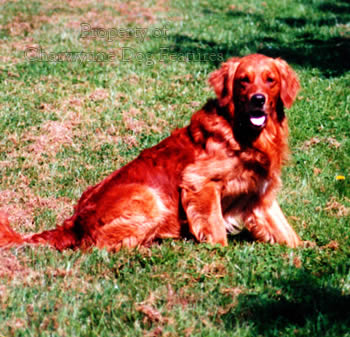 rcifully, this breed has been spared an origin from dogs swimming ashore from shipwrecks, as several pedigree breeds' historians still claim. The truth is that this popular attractive appealing breed developed from black to black matings (one of which had to possess the gene for the golden coat), with input from local dogs like the Tweed Water Spaniel and some Bloodhound blood. Very occasionally, a golden-coated dog crops up in Flat-coated litters and some were whelped in the 1980s both here and in Australia. Thankfully no breed historian in this breed in the early days had seen a golden-coated Hovawart from Germany. When working there and visiting a remote farm, my astonishment at seeing what I was temporarily convinced was a pair of Golden Retrievers, was soon banished by seeing their registration papers. Since then I have seen golden Hovawarts at World Dog Shows and again been immediately struck by their close similarities with our gundog breed. It is never wise to attribute origin to physical likeness. Victorian dog writers had extremely limited knowledge of foreign breeds, and when they did see one, conjectured at once on the composite breeds likely to have contributed to its make-up. The Golden Retriever was developed here from British stock. We have every reason to be proud of this native gundog breed.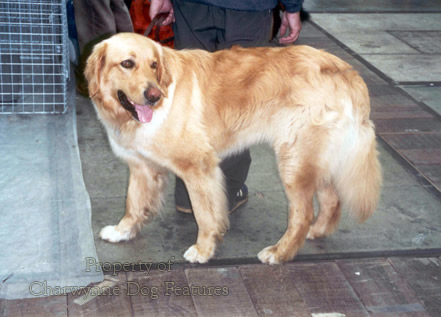 In her valuable short book Golden Retrievers of 1952, WM Charlesworth writes a quite admirable summary of the anatomy desired in the breed: "The build of all gun-dogs runs on much the same lines as does that of a hunter and a Foxhound. They should be built for pace, endurance, and, in the case of hunters and Retrievers, to carry weight and jump with it. Hence the necessity for muscular necks (so that the Golden can lift, carry and jump with a 9lb. hare when occasion arises), for long-bladed, clean-cut shoulders, sound big bone and good feet; and, above all, for short-coupled backs, strong loins, muscular quarters and second thighs, and straight, strong hocks, without which there can be propelling nor jumping power." In 1908, she bred from Culham Brass and from Culham Copper in 1910, each time to her Noranby Beauty; these two litters laid the foundation of the breed, via Noranby Balfour, the sire of the excellent Heydown strain. She dedicated this book to the Countess of Ilchester, whose family became owners of the founding Guisachan dogs, and kept the breed going as a sporting breed.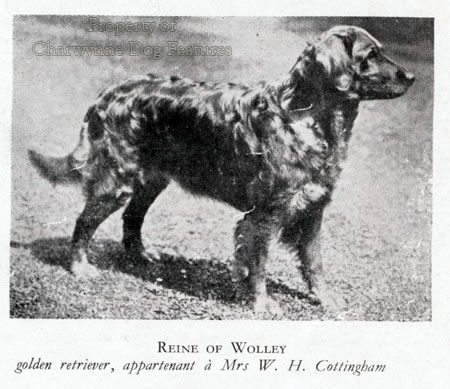 Once when supporting the judge at a working test at the annual Gamekeepers' Fair some years ago, I was reminded once again of how different our retrievers are, one from another. We tend to overlook, when thinking of retrievers, that different breeds are behind each of them and that they each have quite different breed characteristics. Their function may be the same but the wise owner or trainer would benefit from reminding himself, as I was able to, of their essential differences, breed for breed, and from acknowledging how sensible it is to have this in mind when training a young dog as a retriever.
On this occasion, the most handsome breed was the Golden Retriever; the dogs running being red-gold, the real colour of the breed. Their owner/handlers told me they favoured this hue because its wearers possessed a far more weatherproof coat. How refreshing it was to see genuine working dogs in this lovely breed: keen but biddable, not too heavy-coated or over-furnished on the legs and tail and full of dash and drive. In 1938, this breed had to have a coat that was rich golden but NOT be cream. Nowadays its coat can be any sh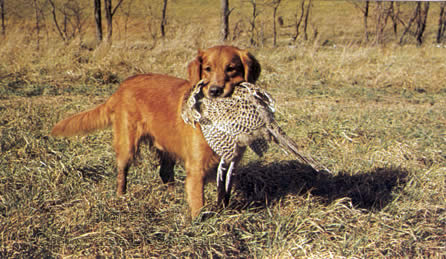 ade of gold or cream - so much for respecting the work of the breed's founders! Its Breed Standard makes no mention of the need for a waterproof coat, surely a 'must-have' for a retriever. Red-coated hunting dogs were prized by the ancient Greeks and Egyptians; red-coated Bloodhounds were often found to have the best scenting powers. I suspect too that our own "ginger 'coy dog" (or red decoy dog) of the middle ages, probably now perpetuated in the Nova Scotia Duck-tolling Retriever, has contributed to our contemporary breed of Golden Retriever. This red-gold colouration in dogs has long had genetic significance. Golden-coloured pups have cropped up in Flat-coat litters, creating the predictable cries of outside blood. But the much respected Flat-coat breeder Dr Nancy Laughton had one in a 1968 litter, with other examples occurring in Australia in the early 1980s. Black coats and golden coats are present in the same gene pool in a number of breeds; has a possible Flat-coat origin for the Goldie been intentionally suppressed? But whatever the origin, this breed should feature the red-gold coat of old and not meekly concede its coat colour heritage to the contemporary show ring preferences.