804 A FUTURE IN THE FELLS

A FUTURE IN THE FELLS
by   David Hancock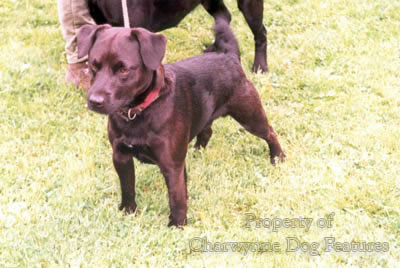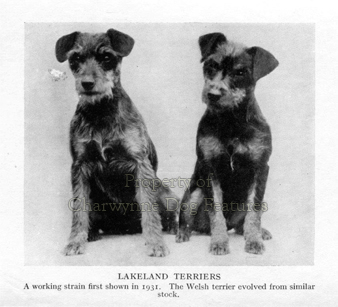 The Fells are demanding country and any earth-dog operating there has to be a bit special. But is there truly a Fell Terrier, a terrier distinctive enough to merit a title of its own. Or is it just a variant of the Lakeland Terrier and an alternative name for the Patterdale? Working terrier expert Brian Plummer often referred to the 'fell-type strain of black terrier' when describing such dogs. He admired the black Fell Terriers of Karen and Wayne Ashford of Cannock in Staffordshire, who developed a line from Gould's dog 'Smithy' - allegedly bred from a mating of a Nuttall black dog to a black and tan bitch bred by John Cowen in Cumbria. I understood from Brian that John Cowen had used two pure-bred KC-registered Lakeland Terriers in the creation of his strain. I used to see such black terriers at local terrier shows when working in Staffordshire in the late 1980s and early 1990s and saw much to admire in them. When does a black Fell Terrier become a Patterdale? Or are the two names interchangeable? One overseas registry recognises a breed called the Fell (Patterdale) Terrier! Was there once a Coniston Terrier? Or are they all really variants of the Lakeland Terrier?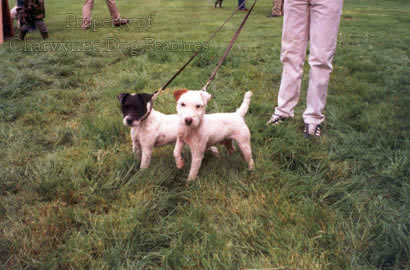 At the annual Weston Park Game Fair you can find all kinds of working terrier masquerading as a Black Fell, a white Lakeland, a Patterdale, a Russell or a Plummer, often lacking the essence of any of these named breed-types. Should coat colour alone decide a breed? The KC Lakeland Terrier is expected to be black and tan, blue and tan, red, wheaten, red grizzle, liver, blue or black. Whole white is not recognised as a breed feature but is in the gene pool. I have never seen a solid black Lakeland Terrier. A Plummer has a most distinctive fiery red coat; Russells are usually mainly white. A whole black working terrier is distinctive too, but is a black Fell really a Patterdale? Is it fair to any breed or strain to be able to look in the whelping box and decide on colour grounds alone which breed each pup is to represent? This was once a challenge to setter breeders, before coat colour became uniquely connected to a breed title. I don't see why you can't have a white Lakeland, a black Lakeland and a red Lakeland, by that name.
  At the time the Reverend John Russell was hunting on Exmoor, there were Cheshire Terriers, Shropshire Terriers, Suffolk Terriers, Elterwater and Reedwater Terriers. John Benson had some really hard terriers running with the West Cumberland Otterhounds, as did the renowned Tommy Dobson in the Cumberland lakes, Tom Andrews the Cleveland huntsman, the Earl of Macclesfield in Warwickshire and Squire Danville Poole at Maybury Hall in Shropshire. Some of these are perpetuated in today's pedigree terrier breeds but behind many of them is the old black and tan rough-haired terrier, never recognised in England as a distinct breed and snapped up by enterprising Welsh terrier fanciers and given their nation's name.   
 Today's Lakeland Terrier represents the old rough-coated black and tan dog, with the undervalued Manchester Terrier representing the smooth variety. If you look at books devoted to terriers of a century ago, you could be forgiven for missing any references to the Lakeland Terrier. Darley Matheson's Terriers of 1922 doesn't list it and Pierce O'Conor's Sporting Terriers a few years later only contains an illustration of  "a working terrier from Lakeland" which resembles a Border Terrier. He gives no words on this breed but finds space for two paragraphs on the Otter Terrier, whilst admitting that it was probably extinct. But Hutchinson's Dog Encyclopaedia of 1934 has 10 full pages on the Lakeland, including 18 photographs. A dozen years earlier, from the names of Patterdale, Fell, the Coloured Terrier and the Elterwater Terriers, the breed title of Lakeland became accepted in the show ring, a breed club having been formed in 1912, with KC recognition being achieved in 1921, a year after the Border Terrier. Less than half a century later, a Lakeland Terrier went Best-in-Show at Crufts then Best-in-Show at the prestigious Westminster show in America the following year, some achievement.  
  Once a terrier breed gains its own title, its fanciers do their best, perhaps understandably, to emphasize breed points and make it both distinctive in its own right and different from its sister breeds. This can lead to the newly-titled breed drifting away from a working anatomy and into a 'fancy' one. You only have to look at the Scottish breeds of terrier to see how this ends up - with a terrier no longer worthy of the 'sporting' adjective in its Group Title. A working terrier from the Fells deserves to be bred to a working template and with the terrier characteristics to justify its name; the Lakeland Terrier has succeeded in the show ring yet retained a working reputation. Rather than confirm a range of breed names based on coat colour for its offshoots I'd like to see its range of colours prized rather than restricted; then wily wallet-conscious breeders aiming to cash in on a 'rare breed of terrier' for urban buyers will be outflanked and breed interests best served.