2 FAVOURING THE FLAT-COATED RETRIEVER

FAVOURING THE FLAT-COAT
by   David Hancock
The Flat-coated Retriever I have long admired and when I was younger mourned their absence from the shooting field. It has been good to see a small renaissance of their working qualities. They were once every gamekeeper's first choice. Combining handsomeness with intelligence, they have never been spoiled by over-popularity. Writing in his The Dog of 1880, 'Idstone', who was a gundog authority in his day, described one with these words: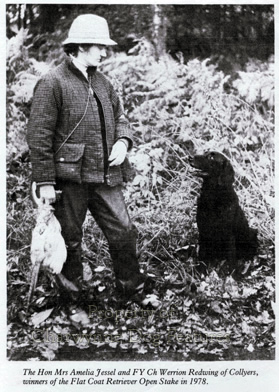 "He was as black as a raven - blue-black - not a very large dog, but wide over the back and loins, with limbs like a lion, and a thick, glossy, long, silky coat which parted down the back, a long sagacious head, full of character, and clean as a setter's in the manner of coat. His ears were small, and so close to his head that they were hidden in his feathered neck. His eye was neither more nor less than a human one. I never saw a bad expression in it." An enchanting description, richly deserved.
James Wentworth Day, a demanding dog-man if there ever was one, referred to a Flat-coat in his The Dog in Sport of 1938 with these words: "But Black Bess...was my father's dog, a magnificent flat-coat who shone in the sun like a raven's wing, who walked the grass with the gait of a queen.
She was all good looks, good breeding and good heart." These words came back to me some years ago, firstly when watching the late Pat Chapman's 'Shargleam Blackcap' win Best in Show at Crufts, and again when seeing FTCh 'Werrion Redwing of Collyers' at work in the field. Here were two happy handsome dogs in contrasting circumstances, really 'selling' their breed. In 2007, Phil Bruton owned and trialled the only Flatcoat to be made up to Field Trial Champion in 26 years, his liver bitch, 'Shirlett Sweetheart'. He had another very promising young dog a few years later, 'Shirlett Skylark', that showed great promise.
We hear little nowadays of the extremely mixed origin of the retriever, the huge amount of cross-breeding conducted in the early 19th century (and inter-breeding of Labradors and Flat-coats in the field trial world, as the KC Stud Book reveals, between 1914 and 1945) and the emergence at various times of golden-coated puppies in purebred Flat-coat litters, as well as black and liver ones. The longer head is forever linked to the setter blood and the input of Borzoi blood rarely mentioned, although Harding Cox did dub the resultant progeny from this input 'coffin-heads'. It would be strange indeed if in retriever litters, the odd throw-back didn't crop up; those with knowledge of the breed's gene pool and history will smile tolerantly, the not so well informed will shout 'alien-blood'. Genetic diversity is a breed's strongpoint not a weakness. 
Drawback to Dual Purpose
In her informative A Review of the Flat-coated Retriever of 1980,breed expert and sportswoman Nancy Laughton writes: "One sportsman maintains that the chief stumbling block in breeding towards perfection of working stock in gundogs has been the obsession for the 'sacred cow' of 'dual purpose' by a majority of breeders. I am forced to agree with this now and believe that unless penal field faults are eliminated in Flat-coats and breeding is directed towards biddability, less excitability and the preservation of good temperament, we will lose that working reliability in the field for which the Flat-coat was renowned in the past." The early Labradors certainly benefited from not featuring either at field trials or the show bench, becoming the sportsman's dog rather than the fancier's or the top trainer's dog.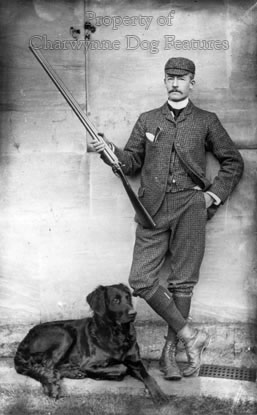 We all admire a handsome dog; we all admire a field trial winner's prowess; but most sportsmen require a dog with fundamental skills and a sound physique. To be called a retriever, every show dog should be physically capable of acting as one in the field – even if not required to do so. The KC's 'fitness for function' campaign, now being strongly promoted, will perhaps achieve progress on this issue.  I was very impressed by full champion  Deep River Walk of Downstream when winning Group 3 at the National Gundog Show a few years ago. 
New Name Proposed
 The breed owes a great deal to early pedigree breeders like the Shirley family of Ettington Park, H Reginald Cooke (who 'collected' Flat-coats from gamekeepers at an unprecedented rate), the Phizaklea family and Dr Nancy Laughton with her 'Claverdon' kennel. They have left us with a handsome but essentially utility breed. For me, in looks, companionability and sheer willingness, this breed is the supreme retriever. I would like to see him renamed as 'The English Retriever' and placed at the head of our rightfully revered retriever breeds – our national breed. I sincerely believe he has the qualities and the history to justify such a distinctive title. This breed has never been spoiled by over-popularity, has a healthier genotype than some gundog breeds and has every right to be regarded as solely born here, developed here and fashioned here. We are not very consistent over claiming our native breeds; we have the English Setter, we have an English spaniel breed. Unlike the Germans we do not claim our Pointer by name. We credit an overseas place in our Labrador's title, but elect to describe our other retrievers by coat texture or colour. But retrievers are a British invention and the Flat-coat is the soul of their development here; let's celebrate that.